A New Year!
Happy New Year! Oh my goodness, how did everyone survive the Holidays? I'm exhausted and so happy to finally see 2020! It's so much work getting everything together for the many celebrations of the season, but lots of fun too! You know, it seems to me in most instances the ladies end up with the majority of the work from decorating the home (at least the interior), to purchasing and wrapping gifts, to grocery shopping and preparing the holiday meal, and even planning and hosting the New Year's Eve get together. However, after all is said and done, the effort we put in to make the season so special for everyone else can't compare to the rich rewards we receive in return. The joy and happiness that surround me this new year feels so good! But, I think it's about time for the moms to treat themselves with a little gift or two!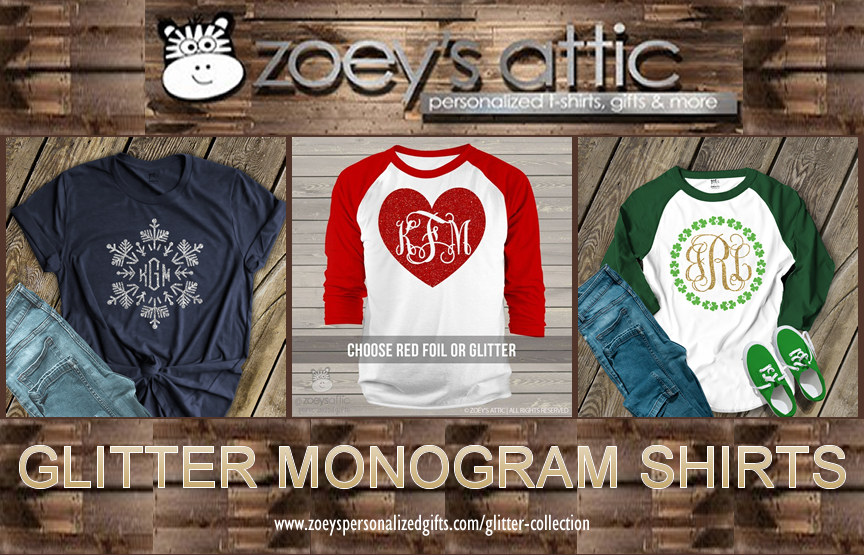 If you love the bling, Zoey's Attic Personalized Gifts has just the shirt for you!
Choose from several sparkly monogram designs in a variety of shirt styles with a favorite glitter or foil color.
So cute and comfy too!
And Zoey has some really sweet designs for moms and moms-to-be.
There are even themed maternity tops for upcoming holidays such as Valentines Day, St. Patrick's Day, and Easter!
Really makes a fun surprise pregnancy announcement too!
Zoey also has personalized sports shirts and hoodies for Moms. It's so fun cheering on your favorite player wearing a top customized for whatever sport you need.
The tops can be personalized with your favorite players number, team name, and team colors too. The shirts are also available in raglan style, and basic dark and light colored tees.
A custom tote bag carryall for hauling your groceries, books, and workout clothes is always a great gift to give or receive!
Time to treat yourself! And, very good wishes too for a very Happy New Year!